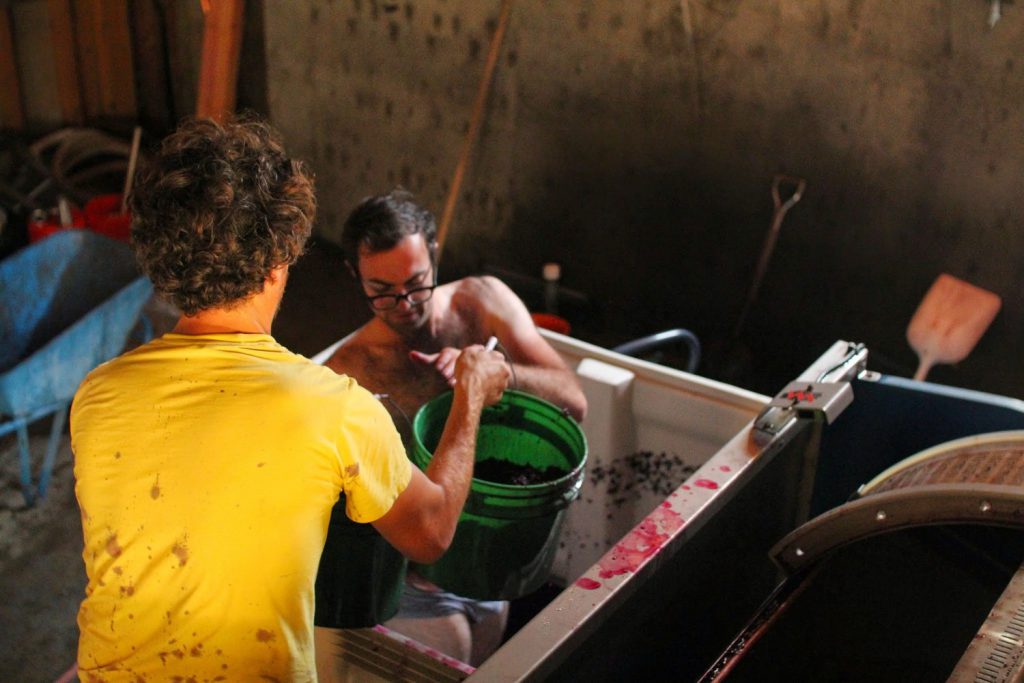 The Living Wine Collective is a group of like minded winemakers who met at UC Davis and caught the natural wine bug when one of their classmate poured them some wines made without sulphur. This led them to become stagiaires at Texier, Overnoy, Valette and Cos (among other stalwarts of the movement).
Together, they are Shaunt Oungoulian and Diego Roig and they make their wines under the "Populis" label. They also have a side project called "Les Lunes", which focuses more on single varietal, single vineyard cuvees.
Their facility is literally the basement of Shaunt's parents' house in Orinda, California just east of Berkeley. They don't own vineyards but, instead, rent plots where they can do their own work.  They choose vineyards that have been historically farmed without chemicals or irrigation. They also have access to parcels and blocks that are special enough to warrant a single varietal interpretation — these are the Les Lunes bottlings.
Currently they work land in Carneros, Mendocino, and one of California's newest AVAs, Manton Valley.
While they are committed to organic and native yeasts, they are not dogmatic in their techniques including the use of sulphur, although when they use it it's always in small doses.
2017 Populis "Wabi-Sabi," Mendocino County
In traditional Japanese aesthetics, wabi-sabi (侘寂) is a world view centered on the acceptance of transience and imperfection. It is a beauty of things modest and humble. It is a beauty of things unconventional. The 2017 Populis "Wabi-Sabi" Red Blend was born from the desire to create a lighthearted, naturally made, extremely drinkable wine from our favorite vineyard sites. Made up of organically grown Carignane, Zinfandel and Syrah, this wine has the backbone and rusticity of Italy and Southern France with the pop of fruit that only California brings to the table. Chill it down and drink it up!
2016 Les Lunes Old Vine Carignane, Arnolds Block, Mendocino
From one of the most historic vineyard sites in CA — the vines were planted in 1948 by the Arnold Family, who were members of the Sho-Ka-Wa band of Pomo natives. The Arnold family continues to do pruning and green work on the vineyard, while the Poor family does harvesting. This is an arrangement which has been going on for 70 years! This vineyard as been dry-farmed organically since its inception.
Aged 22 months in barrels — 30 days on stems, this wine has an incredibly refined nose and screams tart cherries. So aromatic.
2016 Old-Vine Zinfandel, Venturi Vineyard, Mendocino
This Zinfandel hails from 70 year old dry-farmed and organic vines planted by legendary grower Larry Venturi's grandfather. Lean, bright, and fresh — sizzling with electricity — this wine has none of the jammy/smoky qualities often associated with Zin. Instead you get fresh berries and floral aromas — rose petals, lavendar, strawberries, and blueberries! In a nutshell: Bramble fruits and flowers. This wine represents the future of California Zinfandel. This is a natural wine made with 100% Zinfandel and no additions or interventions.