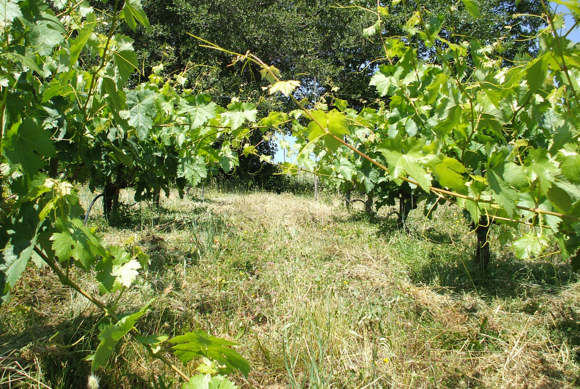 Hank Beckmeyer makes wine as naturally as possible, adding no yeast, sulfur dioxide, oak chips, enzymes or concentrates in the cellar, and no chemicals, fertilizers or tillage in the vineyard.  He allows fermentations to occur spontaneously, and allows them to complete in their own time (this can take up to 6 months!).  Every vintage has its own rhythms.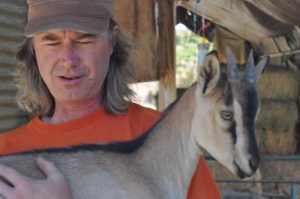 He ages his wine in neutral containers, never in new oak, and lets the wine develop without sulfur additions or excessive racking.

He bottles when the wine is "complete" (when the wine eventually "comes together" and is harmonious).  He then may add just a minimal amount of sulfur, if he feels it necessary, to ensure the bottles you receive are safe from the rigors of travel and fluctuating temperatures.
---
---
 al basc Albariño
Skin-fermented and skin-macerated Albariño that spent 7 months on its skins, stems, and seeds before being drawn off the resulting wine. It shows a deep amber color, with an intriguing combination of fresh grape skin and dried apricot fruit aromas. Commonly found in orange wines, there is a savory, oxidative element (but still an ever-present freshness, thanks to Albariño's gripping acidity) as well as a subtle tannic structure.
Please please please pair this wine with some umami rich dish — whether it is mushrooms or soy sauce or funky cheese — orange wines (or oxidative wines, in general) LOVE umami!
100% Albariño, bottled unfined and unfiltered (vegan suitable) without any additional sulfites.
Only 70 cases produced.
Mo-Ma
61% Mourvedre, 32% Marsanne, 7% Roussanne — all co-fermented to produces the ultimate Glou-Glou wine.
This 2017 vintage has been marked by lower alcohols and lower yields than the previous few years. The 2017 Mo-Ma was picked September 21st at 18.5 brix and with a pH of 3.60. The marsanne crop was lower than usual, so we added a bit of roussanne to the blend this year.
The wine shows a light color, on the cusp of  "is it a red or is it a rosé?" It has an earthy, mineral cherry-vanilla aroma, with some grapeskin and plum. It is light bodied, savory and herbal on the tongue, with a core of fresh acidity. Some very fine tannins sneak in at the finish and contribute a peppery sensation.
Served chilled to bring out the spicy notes and to observe how the wine evolves as it warms up. Pairs well with a very wide variety of foods, from salads to fish to steak to wild mushrooms.
Piedi Grandi
Mountain grown Nebbiolo (38%),  Syrah (32%) and Mourvedre (30%)

Grown on a 2900′ elevation vineyard on volcanic loam soils, this 100% whole cluster fermented Piedi Grandi is flat-out delicious. Though the varietal makeup of the wine is not the "classic" 50/50 blend of Nebbiolo/Mourvedre, it nonetheless tastes like its predecessors. That's a testament to the strong vineyard character of the Sumu Kaw vineyard.

The wine is deep in color. Floral and strawberry aromas leap from the glass. There's crushed thyme and pepper in there, too. The wine is very sleek and smooth on the palate, with a great fruit/herbal balance, and flashes of citrus peel and black tea. The Nebbiolo asserts itself in the finish with its particular, very fine, tannins. The wine just expands in your mouth.
Syrah "sumu kaw"
100% whole cluster fermented Syrah, foot crushed, aged in puncheon and tank.
The 2016 Sumu Kaw Syrah seems very "together" for such a young wine — very expressive. It shows classic Syrah notes – smoke, herbs, bacon fat, olives – but with its distinctive California twist. The fruits are richer and darker in tone (blackberries!).
Structurally, this wine is built for aging, with firm tannins and a juicy acidity. And age it will, with proper storage. This is the 9th vintage of this Syrah from the Sumu Kaw Vineyard, and tasting back to 2008, none of the
previous years are tasting old or weak. So, although it is heartily encouraged to drink a bottle (or two) now, please feel free to stash away a few more bottles to explore in the coming years. For near-term drinking, you may want to decant the wine for a few hours, but it's not a necessity – as Hank puts it:
I, for one, enjoy that sort of young syrah / Iggy and the Stooges "Raw Power" sort of vibe.
Bottled unfined and unfiltered.