Apart from biodynamic viticulture, the following harvesting and cellar practices are followed:
-The harvest is done by hand in 10kg boxes.
-The white grapes are pressed lightly and slowly.
-Débourbage (first racking to separate solid matter from juice) takes place after 24 hours, then the must goes into barrels for the alcoholic fermentation (none of the barrels are new, but rather 4 to 8 years old.) Malolactic fermentation usually follows and is not stopped by any means.
-Nothing is added: there is no chaptalization, no selected yeasts, no sulfur, no enzymes, no de-acidification, no fining.
-There is one racking to get rid of the wine's gross lees, and then aging for several months, according to each cuvée.
-There is a light filtration and addition of 2g/HL of sulfur at the time of bottling.
-The red grapes are tread by foot before going into maceration vats.
-Maceration occurs under the protection of CO2, in a semi-liquid stage (semi-carbonic maceration) and lasts 1 to 3 weeks. The musts are then pressed and go into barrels for their alcoholic and malolactic fermentations. Again, nothing is added to the wines and the same principles are used at bottling.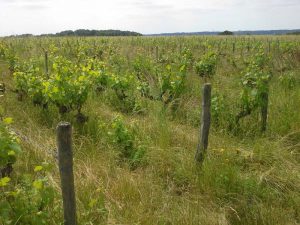 This is how a vineyard should  look!
---
---
2017 Patapon
100% Pineau d'Aunis, the unique, native varietal of the Loire. We've loved this varietal for over a decade now — you can say it rather sums-up the palette of our portfolio. Bright, medium-bodied, with rose petals, red berries, peppercorn and moderate, rustic tannins. Only gross filtering — and 2 ppm of SO2 added at bottling. This is REAL wine… so fantastic to pair with a variety of food styles.
2015 Le Temps d'Amier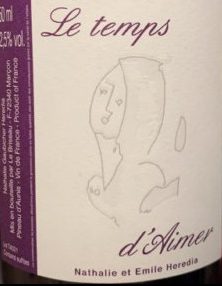 100% Pineau d'Aunis. Beautiful, beautiful, beautiful, beautiful, beautiful, beautiful, beautiful…. so good!  An older…. more integrated Pineau d'Aunis. Classic peppercorns throughout.  This is why we sell the wines we do.