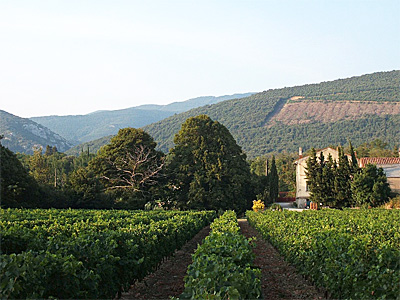 Agnès and Alain Carrere grow traditional, authentic wines from organic vineyards in the harsh landscape of the Pyrenees. Their passion and dedication are evident in every bottle, with wines that genuinely express the unique terroir of the Pyrénées Orientales, the difficult winters and hot summers of the region, and the balance that results from having vineyards natural contact with forests, meadows, and mountains.
Up until the early 90's, the vast majority of the wine coming from the area were mass produced by cave cooperatives and profit margins for the viticulturists were very low, so they were forced to produce very high yields to compensate.  The Carreres wanted to sell their wines locally, but gradually moved into selling large quantities to supermarkets (and still not making the money they needed).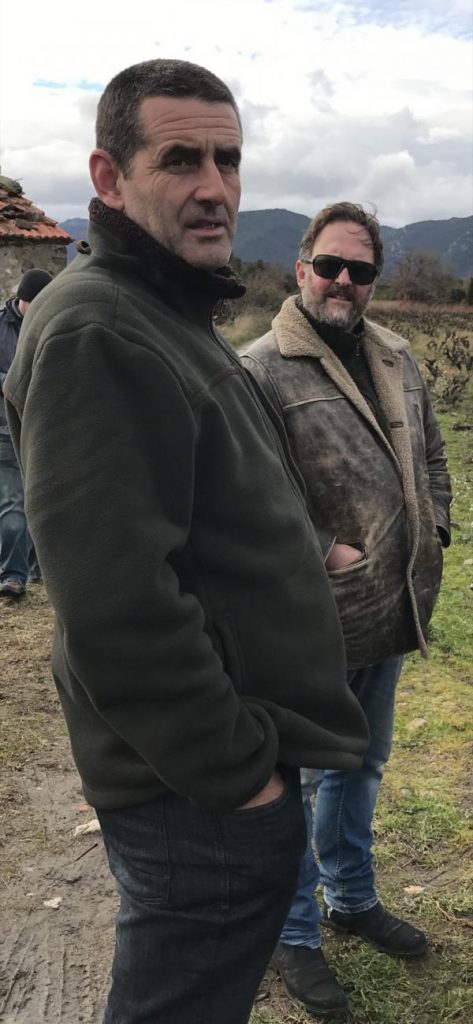 Enter Tom Lubbe — a South African natural/biodynamic wine maker who was working in the south of France. The Carreres  asked for his assistance in revitalizing their vineyards — and it worked.  Old vines that had been worked conventionally for generations seemed barely alive — "on life support," as Alain has said. But since converted to organics, the vines have "been freed! [and] are vibrant and productive again."In the cellar, Tom showed them how to rethink everything as well.  Tom required them to be ALL-IN.  No yeasts, no manipulations and no excessive sulfur. It completely changed their wines.  When they worked with the supermarkets, they had strict directives: the rosé had to taste like candy, so they had to use a prescribed yeast for that. The supermarkets required a Chardonnay yeast to extract that lemon citrus taste, etc.. There was no reflection of terroir, and the wines had zero personality. They could have been coming from anywhere. Fermenting with indigenous yeasts gave the wines a soul they never had before. They now have their OWN characteristics, and don't resemble any wine you'd find in a supermarket.
The wines produced by Domaine de Majas, while produced within the AOC, are classified as Vin de Pays — a choice made because working under the AOC meant producing imposed blends with imposed varietals. They had a different vision, and by declassifying the wines, they can blend the way they want.
---
2017 Vdp Cotes Catalanes Rouge
Soil: Schist, volcanic stone and mountainous limestone
Grapes: 50% Carignan, 50% Grenache Noir
Age of Vines: 20 to 120
Yields: 40 hl/h
Vinification: Destemmed, fermented and aged in concrete.
Fresh and lively organic southern red. Garnet red with aromas of ripe blueberry and red cherries as well as interwoven herbal notes and crushed stones. The fruit carries through the whole way supported by pleasing acidity, minerals and a lovely raw, natural crunch. Some dissolved CO2 give a vital sizzle.